sculptures
|
edible art
|
the artist
|
events
|
press
| THE BOOKS


This spicy tale of kitchen romance and intrigue is now available in both paperback, and as an ebook on kindle.
If you enjoyed the stories found in Warren's first book, "Art in Chocolate", you will love seeing how the characters continue their adventures! If you liked the recipes, you will love the recipe in the novel!

This novel follows a visiting chef as they run the obstacle courses that make up today's university. Cooking, Crime, Romance, Travel, Business Intrigue, Comedy, Gender Diversity - there is something for everyone to enjoy in this saucy new novel. A humorous and steamy look behind the scenes of food services and campus life, which will leave you glued to the pages and reaching for a second bottle of wine!
Available on amazon.com, amazon.co.uk, amazon.ca, amazon.de and every other amazon platform. If you would like bulk copies, or reduced price copies for your organisation, please contact me.

Paperback or Kindle | April 2020 | 402 pages | ISBN-13: 979-8631885417
Join me, Share your books, Check out my Interviews
What people are saying about "The University Club - A Campus Affair"

"When I began to read this book, I looked forward to some behind the scenes food 'gossip'. And I wasn't disappointed. There were delicious references to food, to running a restaurant from the back-of-house, to small-business intrigues. Warren successfully wrapped it all in a clever series of personal vignettes, some emotional, some sexy. But all the way through is the adventure of hearing the internal monologue from this complex human as he? she? evolves."

"Es hat viel Wortwitz, ist sehr unterhaltsam, und man bekommt Lust aufgutes pures Essen!"

"I looked at the cover and thought - Is it porn? lol."

"I liked it very much - I think it's very good!! I found it a little difficult to get into at first because I did not get a good sense of the differences between the main characters (at first!), but then you pulled me in. Plot development is *really* good, some passages are *really* well written. I very much liked the structure: the beginning-end linkage, the idea of the notes. It's so good!"

"Don't buy Warren's novel unless you want to mess up your sleep cycle. It's a page turner."

"I love the book!! Am reading at the speed of light!"

"I really liked it! An excellent first novel."

"This novel is compelling. I haven't enjoyed fiction since I read "Flowers in the Attic" 30 years ago. It is fast-paced and the writing style makes you feel the stress of the Jessie's world. You will want to carve out a big chunk of time to read this. The storytelling draws you in. You want to know more about Marta and Judith. You feel the intensity of Jessie's passion — for food and women — as well as his disdain for pedestrian dishes like kiwi tarts."

"Just like a "beach-read" novella."

"Great ending! keeps the reader guessing... Don't expect a deep, classical philosophy. This a 'jaunt': with the main character, Jessie, as divergent as they come!

"It's like 'Lucky Jim' and 'Kitchen Confidential' were sliced up and baked together in a pie. A delicious and unexpected combination."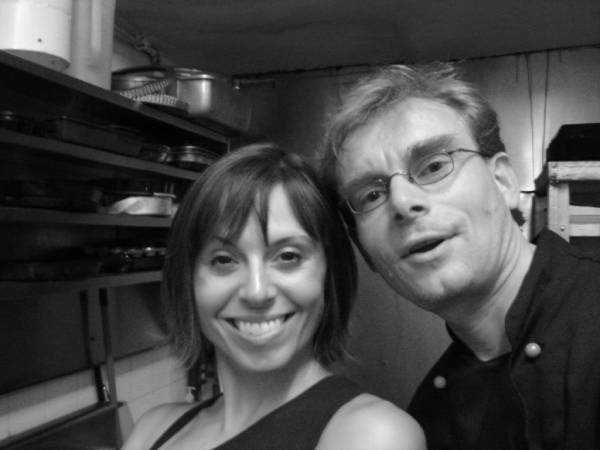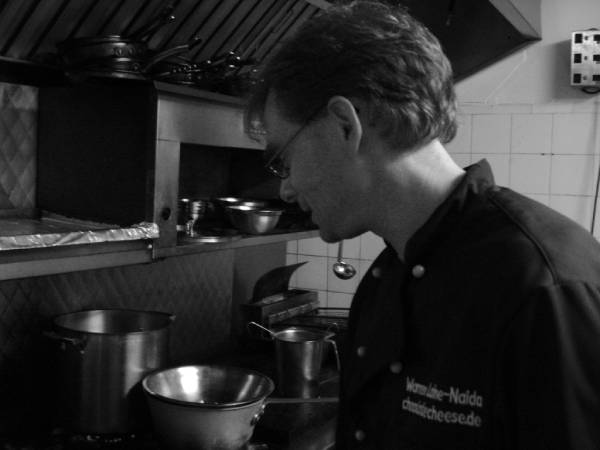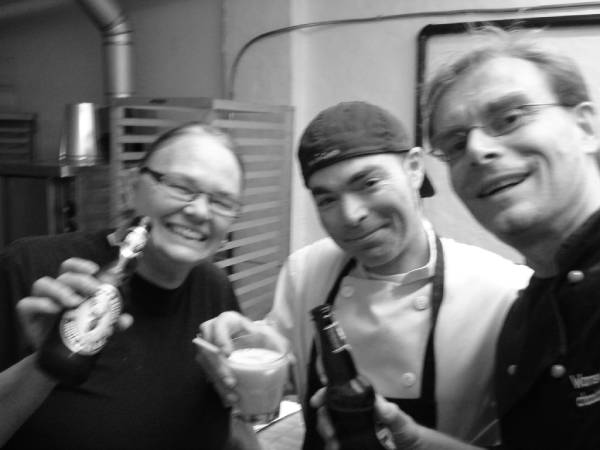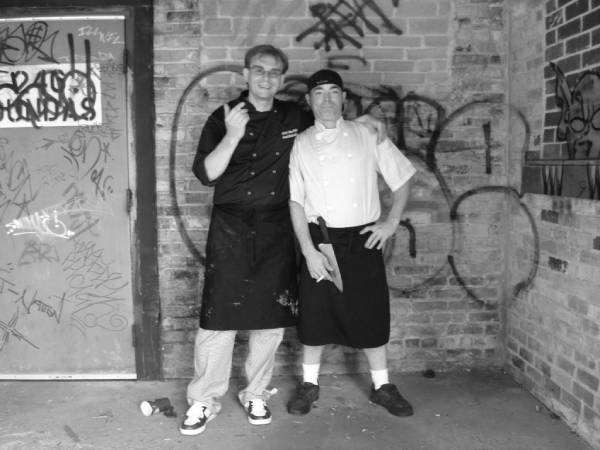 ---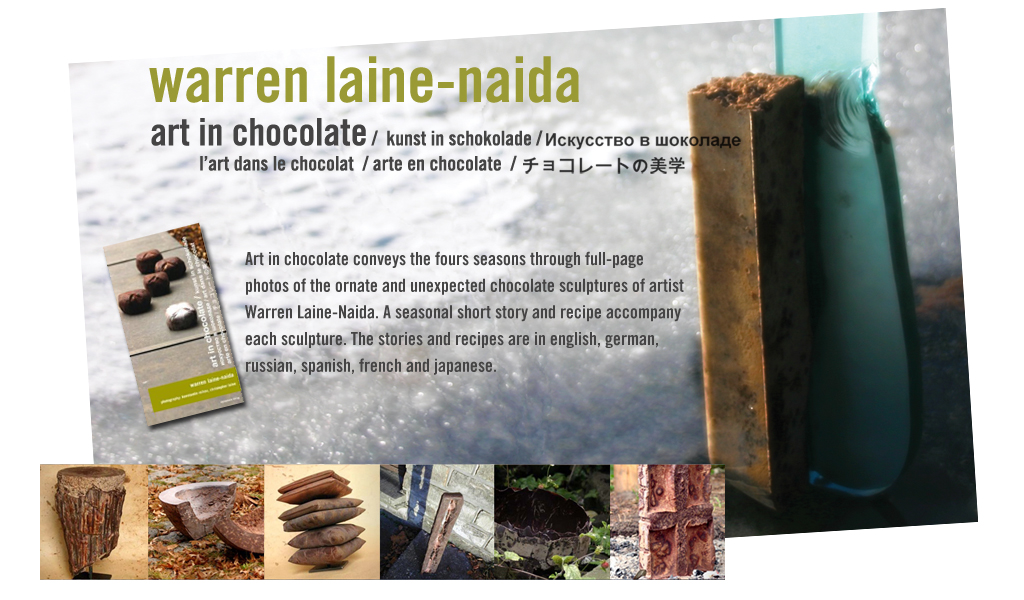 Warren Laine-Naida's first book "Art in Chocolate" - published in 2009
"Chocolate sculptures are an expression of the inexplicable, of the double meaning - the edible and the inedible."
Art in chocolate was published in May 2009. This Artists Book contains images of Warren Laine-Naida's chocolate sculptures, as well as short story vignettes, and his unique, seasonal recipes.

Art in chocolate conveys the fours seasons through full-page photos of the ornate and unexpected chocolate sculptures of artist Warren Laine-Naida. A seasonal short story and recipe accompany each sculpture. The stories and recipes are in english, german, russian, spanish, french and japanese.

The book is still available on many sites, and directly from the author.

ISBN-10: 3941624156 | ISBN-13: 978-3941624153

Praise for "Art in Chocolate"
"I don't think "unique" comes close as a descriptor of this exceptional visual experience. This book seems to come at the reader from several directions at once. ..."

"Interessant ist das Buch nicht nur für Kunstbegeisterte, sondern auch für Alle, die Anregungen für künstlerische Arbeiten mit Schokolade suchen. Mit seinen Skulpturen liefert Warren Laine-Naida allen Schokoladenschaffenden eine faszinierende Sammlung unterschiedlichster Oberflächengestaltungen für Schokoladenskulpturen."

"Warren Laine-Naidas "Kunst in Schokolade" begibt sich auf die Spuren dieser alltäglichen Sünde von der wir Deutschen immerhin fast 9kg pro Magen und Jahr verschlingen. Laine-Naida's Betrachtungsweise ist dabei persönlich und künstlerisch. In vier Kapiteln der Jahreszeiten, beginnend im Winter, führt er den Leser durch seine eigene Welt der Schokolade. Dabei überrascht er mit provokant pointilierten Geschichten und kreativen Rezepten, die manchmal in Harmonie und manchmal in aufrührerischem Kontrast zum abgebildeten Schokoladenkunstwerk Laine-Naida's stehen. So liest man zum Beispiel im Winter von glühenden Gartenzwergen, die in einen Kloben Schokolade gerammt werden, nebst Anisschokoladenpuddingrezept auf Japanisch und Schokoladenskulptur in schönster Winterlandschaft. ... Laine-Naida's Kunst in Schokolade sensibilisiert für den Facettenreichtum der wohl gewöhnlichsten Sünde auf Erden."
---
Art in chocolate
conveys the fours seasons through full-page photos of the ornate and unexpected chocolate sculptures of artist Warren Laine-Naida. A seasonal short story and recipe accompany each sculpture. The stories and recipes are in english, german, russian, spanish, french and japanese.
Искусство в шоколаде
Книга повествует о четырех временах года через серию фотографий оригинальных и неожиданных шоколадных скульптур художника Уоррена Лэйн-Найда. Короткий рассказ и рецепт сопровождают каждую скульптуру. Рассказы и рецепты приведены на английском, немецком, русском, испанском, французском и японском языках.
Kunst in Schokolade
Das Buch beschreibt die vier Jahreszeiten in ganz-seitigen Fotografien, die die kunstvollen und oft unerwarteten Schokoladenskulpturen des Künstlers Warren Laine-Naida darstellen. Eine Kurzgeschichte und Schokoladenrezepte begleiten dabei jede Jahreszeit und sind sowohl in Englisch, als auch Deutsch, Russisch, Spanisch, Französich und Japanisch verfasst.
L'art dans le chocolate
livre transmet les quatre saisons par les photos en pleine pages complètes des sculptures de chocolat très ornées et inattendues d'artiste Warren Laine-Naida.Un conte saisonnier et une recette accompagnent chaque sculpture. Les contes et les recettes sont traduits en anglais, allemand, russe, espagnol, français et japonais.
Arte en Chocolate
El libro expresa las cuatro estaciones através de fotografías del tamaño de una página entera de las esculturas ornamentadas e inesperadas del artista Warren Laine-Naida. Un relato breve de temporada y una receta para acompañar a cada escultura. Los relatos y recetas se encuentran en inglés, alemán, ruso, español, francés y japonés.
チョコレートの美学
。この本はアーティストであるウォーレン・レイン – ナイダが携わってきたかずかずのチョコレート彫刻四季の視点から紹介する。ページいっぱいに飾られた彫刻の写真などがならぶ。
季節ごとに分かれた短文と レシピなどが加えられた作品である。短文とレシピは現在英語、ロシア語、 スペイン語、フランス語と日本語に翻訳されている。